The Meat Makers – Bar – Cayenne Pepper

In recent years, Europe has seen the appearance of brands of Jerky, of good quality. These companies often offer several types of products in the same spirit such as whole steaks, bars, sticks and other salami or dry sausages.
Presentation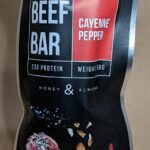 Today, we are going to take a closer look at a product from The Meat Makers brand, a Lithuanian company founded about fifteen years ago and more particularly the Cayenne Pepper version of their Beef Bar.

First of all, their products are not organic but have no preservatives other than salt and sugars, which is not the case with all brands of Jerky.
We test quite a few food products with additives, but if we did we would be sure to add a special mention to the article.
Ingredients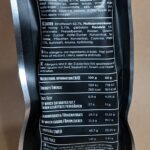 Ingredients: beef 63.7 %, whey protein concentrate, honey 5.71 %, toasted almonds 5 %, dried cranberries, water, spices, brown sugar, apple-sugar concentrate, salt, celery, plum concentrate, Cayenne pepper 0.13 %, apple juice, flavor, apple vinegar.
Package contains oxygen absorber − not edible.
Product
Appearance
The Meat Makers Cayenne Pepper beef bar comes in a non-resealable 50 g packet, it contains a not edible oxygen absorber. The block looks like a large tender and shiny cereal bar, as can be seen in the photos, so it will have to be consumed by holding it in its bag at the risk of ending up with your fingers covered in marinade. We can also see the flaked almonds but we cannot distinguish the cranberries or the pieces of meat which are fine ground.
Taste
Jerky without preservatives tend to be more salty / sweet than the others, so it must be taken into account in your daily intake and particularly in case of pathologies such as diabetes or hypertension; see the Nutrition facts table.
Also beware of possible allergies mainly because of almonds, celery and whey.
This bar has a very good smell of spicy meat with a slightly sweet scent. The spices are not all specified on the packaging but we will note the presence of "flavor", which is often a catch-all term used by manufacturers to hide certain products, even if here we are sticking to something of quality.
The taste is not too strong and will ultimately come closer to an Espelette pepper than a Carolina Reaper with always a sweet note and its surprising texture thanks to the slivered almonds which avoids this sawdust side when the meat is ground too finely. It gives us a good protein bar to recover after the effort. Also note that the amount of salt is lower than the average for the products we test which is an additional good point.
Nutrition facts
| Average values for | 100 g |
| --- | --- |
| Energy | 1551 kJ / 368 kcal |
| Fat | 8.9 g |
| of which saturates | 2.1 g |
| Carbohydrate | 26.5 g |
| of which sugar | 21.3 g |
| Protein | 46.7 g |
| Salt | 1.61 g |
Nutrition facts table
Conclusion
You will undoubtedly have noticed it, just like its paprika cousin, it is a very good bar from a taste point of view, which is neither too fatty nor too salty (for this kind of product of course), which leaves the emphasis on proteins. The ingredients are not organic but the quality is present and its price is around € 2 per pack, which is rather reasonable for the product. Finally, we can say that between the paprika and Cayenne pepper bars it's just a matter of seasoning for the same product.