Jimini's – Buffalo worms – Spicy Chilli

The questions of the continued growth of the world population and its ever-increasing consumption of natural resources are attracting researchers. The question that interests us, today, is that of food subsistence under these conditions. One of the promising ideas explored is through the rearing of insects which make it possible to produce good quality proteins with a much better yield and a significant saving of space compared to traditional rearing. These insects, or rather their proteins, are intended for animal and human consumption. This is not something new for everyone, for many populations it is already part of their eating habits, but are Western consumers ready for this transition?
Presentation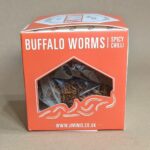 Today, we are going to take a closer look at a product from the Jimini's brand (which also produces crickets), which is a French company specialized in food products made from insects, and more particularly the Spicy Chilli version of their buffalo worms (Alphitobius diaperinus).

First of all their products are not organic and contain some derivatives, like sulphites here, but have the merit of trying to make things happen with our food. We test quite a few food products with controversial additives, but if we did we would be sure to add a special mention to the article.
Ingredients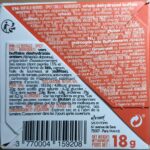 Ingredients: whole dehydrated buffalo worms (Alphitobius diaperinus), spice blend [salt, spices (e.a. paprika 15 % and hot pepper), wheat flour, onion, sunflower oil, garlic (sulfites), tomato powder, bell pepper, anticacking: magnesium carbonate], stabiliser: acacia gum.
Product
Appearance
The buffalo worms come in an 18 g box containing a non-resealable bag. The worms are grilled with a spicy seasoning, they have a beautiful golden color and have an average length of around 10 mm as can be seen in the photos.
Taste
It is a fairly fatty product, a little sweet and above all very salty, so it must be taken into account in your daily intake and more particularly in the event of pathologies such as diabetes or hypertension; see the Nutrition facts table.
Also beware of possible allergies mainly because of insects which may contain gluten and are similar to molluscs, crustaceans and dust mites allergens.
The seasoning is present but discreet enough not to completely cover the insects, unlike the Smoked Onion BBQ crickets with their smoked seasoning much too strong for my taste. And so as indicated on the packaging, you can take big pinches without problem.
As you would expect, it is all about having a seasoning combined with a crunchy texture, the insect itself not having a great deal of taste. In any case, it is a ready-made curiosity for an aperitif with friends that will fuel discussions, more than the guests, and arouse their curiosity.
Nutrition facts
| Average values for | 100 g |
| --- | --- |
| Energy | 1833 kJ / 438 kcal |
| Fat | 20 g |
| of which saturates | 6.2 g |
| Carbohydrate | 18.1 g |
| of which sugar | 2.8 g |
| Protein | 39 g |
| Salt | 6.21 g |
Nutrition facts table
Conclusion
The small size of the insects makes it possible to quickly remove the potential psychological barrier, which will be more complicated to cross with crickets or even grasshoppers of the same brand. Plus, the well-balanced seasoning makes it safe to discover this curiosity whether you like it or not, you won't be disgusted.
For our 18 g box it will cost around 8 €, it is quite expensive but it must be seen as a curiosity, which is moreover made in France from insects raised in Europe on a niche market (for the moment). And 18 g is plenty of insects, it will be enough to share with 8 people without problem, if it's not the main course. So, if you're curious go ahead and maybe it will allow you to switch to more classic products, containing insect powders, with less prejudice.