The Meat Makers – Beef Steak – Original

In recent years, Europe has seen the appearance of brands of Jerky, of good quality. These companies often offer several types of products in the same spirit such as whole steaks, bars, sticks and other salami or dry sausages.
Presentation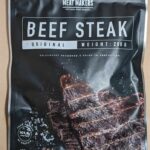 Today, we are going to take a closer look at a product from The Meat Makers brand, a Lithuanian company founded about fifteen years ago and more particularly the Original version of their Beef Steak.
First of all, their products are not organic but have no preservatives other than salt and sugars, which is not the case with all brands of Jerky.
We test quite a few food products with additives, but if we did we would be sure to add a special mention to the article.
Ingredients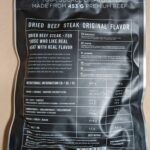 Ingredients: Beef topside 90.59 % (made with 453 g for 200 g), onion, salt, garlic, spices, fructose.
Package contains oxygen absorber − not edible.
Product
Appearance
The Meat Makers steak comes in a resealable 200 g packet, which contains two inedible oxygen absorbers. The slices of meat are thin and tender, which is confirmed by the drying ratio of 2.27 (it takes 227 g of meat to make 100 g of Jerky) that is rather in the low average for a Jerky. The slices show white patches, formed of protein crystals as can be seen in the photos, this is completely normal and not to be confused with mold.
Note that some slices in our package contain a lot of collagen (ligament) and therefore are very difficult to separate by hand without cutting them and this is the first time that this has happened to us with this product which in general contains very tender meat.
Taste
Jerky without preservatives tend to be more salty / sweet than the others, so it must be taken into account in your daily intake and particularly in case of pathologies such as diabetes or hypertension; see the Nutrition facts table.
Also beware of possible allergies mainly because of the possible traces of soybeans, celery, mustard and nuts.
The "Original" recipe is reduced to a minimum to keep a simple seasoning that compliment the meat. The spices are not specified on the packaging and are discreet, however we note the presence of ground pepper clearly visible in the photos. The result gives us a very good Jerky but in steak format.
Note that the remark made during visual inspection is well confirmed here, with a few slices containing ligaments, and although the quality of the meat itself is not affected, the impression of chewing a piece of leather is quite unpleasant.
Nutrition facts
| Average values for | 100 g |
| --- | --- |
| Energy | 1100 kJ / 261 kcal |
| Fat | 5.7 g |
| of which saturates | 2.4 g |
| Carbohydrate | 1.7 g |
| of which sugar | 0.6 g |
| Protein | 50.8 g |
| Salt | 3.3 g |
Nutrition facts table
Conclusion
This is a good "steak", very tender, classic and simple, which compliment the good quality meat. The ingredients are not organic but the quality is present and its price is around € 12 per package which is rather reasonable for the product, especially if we reduce it to the more classic weight of the category we get 3 € for 50 g.