Feed. – Meal-bar – Chocolate. Banana. Crispy.

In a world where everything is going faster, our pace of life makes it more difficult to eat healthy and take care of our body. Even if I do not subscribe to this premise, this does not prevent me from being interested in the various "solutions" that may result from it and which have a certain consistency. Here we are going to look at meal drinks that allow, on paper, all the nutritional needs to be integrated into a single portion that is easy to ingest, at any time of the day, in our high paced life.
Presentation
Today, we are going to take a closer look at a product from the Feed. brand, a French company founded in 2017 that specializes in nutrition, and more specifically the Chocolate. Banana. Crispy. version of their Meal-Bar.
First of all, their products are not organic but are intended to be more reasoned and respectful of the environment, with at its core vegan, gluten-free, lactose-free and GMO-free specifications. Then each range has its specificities, developed by nutritionists: Original. (balanced meal), Light. (slimming meal), Sport. (high protein meal) and Snack. (junk food).
Note that the nomenclature of additives (Exxx) does not appear on the product packaging and has been added to facilitate the search for future readers.
Ingredients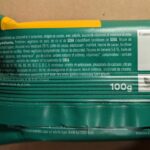 Ingredients: vegetable protein from peas, rice and crispy soybean (soy protein, tapioca starch, salt), agave syrup, dark chocolate sweetened 20% (cocoa mass, sweetener: maltitol (E965), cocoa butter, lecithin soybean, natural vanilla flavor), vegetable fiber (polydextrose (E1200), chicory fiber),banana flakes 5.6 %, rapeseed oil, stabilizer: glycerin, vitamins and minerals (A, B1, B2, B3, B5, B6, B8, B9, B12, C, D, E, K, potassium citrate (E332), calcium phosphate (E341), magnesium citrate (E345) and carbonate (E504), zinc and iron (E579) and manganese and copper (E519) gluconate, lselenium yeast, chromium picolinate, potassium iodide), preservative: potassium sorbate (E202), antioxidants : extracts of rosemary and soy tocopherols (E306).
Product
Appearance
The Chocolate. Banana. Crispy. meal bar comes in a very classic 100 g bag even if it is quite heavy.
The bar is quite thick and completely coated with a rather stiff layer of chocolate that won't easily melt in between your fingers. As for the inside we find the slightly sawdust aspect that we have already encountered with the meat bars of The Meat Makers brand. There are some grainy elements, probably for the "Crispy" aspect.
Taste
This meal bar is made to fill part of the recommended daily intake of many elements, so it is interesting to pay close attention to its composition; see the Nutrition facts table.
Also beware of possible allergies mainly because of soya one of the main components of this bar.
For the olfactory part, we clearly smell a banana smell when opening the bag with a slightly synthetic side even if the product does contain banana flakes. The taste, on the other hand, is that of banana but much weaker than the smell itself.
The texture in the mouth confirms this smooth aspect with a few crunchy grains to brighten up the product a little. I think it looks a bit like the commando bars of French military rations (MRE) although, unfortunately, I have never tasted it to be able to really compare.
It is a product that is also quite sweet in taste, and I still do not understand the principle of reducing sugar in a product while using sweeteners which are often quite disgusting, if one wants to reduce sugar, simply do not use sugar then…
Nutrition facts
| Average values for | 100 g |
| --- | --- |
| Energy | 1506 kJ / 360 kcal |
| Fat | 15 g |
| of which saturates | 5.9 g |
| Carbohydrate | 34 g |
| of which sugar | 17 g |
| Fibre | 12 g |
| Protein | 23 g |
| Salt | 0.7 g |
| Vitamin A | 160.00 μg |
| Vitamin B1 | 0.22 mg |
| Vitamin B2 | 0.28 mg |
| Vitamin B3 | 3.20 mg |
| Vitamin B5 | 1.20 mg |
| Vitamin B6 | 0.28 mg |
| Vitamin B8 | 10.00 μg |
| Vitamin B9 | 40.00 μg |
| Vitamin B12 | 0.50 μg |
| Vitamin C | 16.00 mg |
| Vitamin D | 1.00 μg |
| Vitamin E | 2.40 mg |
| Vitamin K | 15.00 μg |
| Chromium | 8,00 μg |
| Iron | 2,80 mg |
| Potassium | 400.00 mg |
| Manganese | 0.40 mg |
| Selenium | 11.00 μg |
| Zinc | 2.00 mg |
| Copper | 0.20 mg |
| Iodine | 30.00 μg |
| Calcium | 160.00 mg |
| Phosphorus | 140.00 mg |
| Magnesium | 75.00 mg |
| Sodium | 0.196 mg |
Nutrition facts table
Conclusion
This is not a new idea, there are a lot of protein bars in sports stores. In addition, which does not really allow you to "skip" a real meal and that is probably why this bar is in the Sport category of the Feed range. However, we still maintain a fairly large and diversified intake of vitamins and minerals.
This product is therefore rather well suited to intense sports sessions or even to have in your bag when hiking or simply as an emergency supply.
So if you are curious too, take a look at Feed. to make up your own mind and I would like to thank Damien from the French Bon Vivant blog for providing me with a few samples to satisfy my curiosity.