Feed. – Meal-drink – Vanilla flavour

In a world where everything is going faster, our pace of life makes it more difficult to eat healthy and take care of our body. Even if I do not subscribe to this premise, this does not prevent me from being interested in the various "solutions" that may result from it and which have a certain consistency. Here we are going to look at meal drinks that allow, on paper, all the nutritional needs to be integrated into a single portion that is easy to ingest, at any time of the day, in our high paced life.
Presentation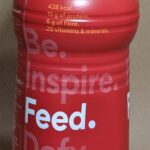 Today, we are going to take a closer look at a product from the Feed. brand, a French company founded in 2017 that specializes in nutrition, and more specifically the Vanilla flavour version of their Meal-drink.
First of all, their products are not organic but are intended to be more reasoned and respectful of the environment, with at its core vegan, gluten-free, lactose-free and GMO-free specifications. Then each range has its specificities, developed by nutritionists: Original. (balanced meal), Light. (slimming meal), Sport. (high protein meal) and Snack. (junk food).
Note that the nomenclature of additives (Exxx) does not appear on the product packaging and has been added to facilitate the search for future readers.
Ingredients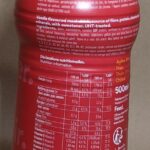 Ingredients: water, maltodextrin, isolated soy protein, sunflower oil, rapeseed oil, starch, gluten-free oat fibre, natural flavouring, emulsifier: lecithin, stabilizers: gellan gum (E418) and locust bean gum (E410), salt, sweetener: sucralose (E955), vitamins and minerals (A, D, K, C, B1, B2, B3, B6, B9, B12, B8, B5, potassium citrate (E332), calcium (E341) and potassium (E340) phosphate, magnesium oxide (E530), ferric pyrophosphate (E450), zinc, manganese and copper sulfate (E519), potassium iodide, sodium molybdate, sodium selenate and chromium chloride).
Product
Appearance
The chocolate meal drink comes in a 500 ml resealable bottle with a screw cap type plastic milk bottle (HDPE).
The liquid is quite thick and its viscosity somewhat resembles that of a brick of crème fraîche. The suspended elements are a little less visible in the photos compared to the chocolate version.
Taste
This meal drink is made to fill part of the recommended daily intake of many elements, so it is interesting to pay close attention to its composition (note that the average values are shown here per 100 ml); see the Nutrition facts table.
Also beware of possible allergies mainly because of soya one of the main components of this drink.
For the olfactory part, we clearly smell the soya with a smell of praline, a little bit chocolaty more than vanilla, perhaps because of the locust bean gum. The taste, meanwhile, matches our first impression and those used to soy milk will not be disoriented. On the other hand, I find it has a rather unpleasant sweetening aftertaste.
The texture in the mouth is reminiscent of a smooth, slightly thick drink, but this time without the grainy side at the end like with the chocolate version, mainly due to the cocoa powder.
Nutrition facts
| Average values for | 100 ml |
| --- | --- |
| Energy | 359 kJ / 86 kcal |
| Fat | 3.0 g |
| of which saturates | 0.2 g |
| Carbohydrate | 11 g |
| of which sugar | 0.7 g |
| Fibre | 1.3 g |
| Protein | 3.0 g |
| Salt | 0.2 g |
| Vitamin A | 35.20 μg |
| Vitamin D | 0.22 μg |
| Vitamin E | 1.60 mg |
| Vitamin K | 3.30 μg |
| Vitamin C | 3.52 mg |
| Vitamin B1 | 0.05 mg |
| Vitamin B2 | 0.06 mg |
| Vitamin B3 | 0.70 mg |
| Vitamin B6 | 0.06 mg |
| Vitamin B9 | 8.80 μg |
| Vitamin B12 | 0.11 μg |
| Vitamin B8 | 2.20 μg |
| Vitamin B5 | 0.26 mg |
| Potassium | 88.00 mg |
| Calcium | 35.20 mg |
| Phosphorus | 30.80 mg |
| Magnesium | 16.50 mg |
| Iron | 0.62 mg |
| Zinc | 0.44 mg |
| Copper | 0.04 mg |
| Manganese | 0.09 mg |
| Selenium | 2.42 μg |
| Chromium | 1.76 μg |
| Molybdenum | 2.20 μg |
| Iodine | 6.60 μg |
Nutrition facts table
Conclusion
This is an interesting idea, which can make it possible to "skip" a real meal while limiting the negative consequences. It also helps maintaining a fairly diverse intake of vitamins and minerals while minimizing the impact of our diet on the environment.
But I am not a big fan of this kind of preparation even if it fills you up. And if we look at fields with strong constraints in terms of food, we see that even NASA astronauts have something concrete in their expeditions because eating is not only about satisfying the body's needs in raw materials, it is also an important psychological and societal aspect (variety, conviviality, break, etc.).
So if you are curious too, take a look at Feed. to make up your own mind, I personally prefer the cheap chocolate over the vanilla flavoring, and I would like to thank Damien from the French Bon Vivant blog for providing me with a few samples to satisfy my curiosity.