SirLoin – Jerky – Chilli

In recent years, Europe has seen the appearance of brands of Beef Jerky, of good quality. And what basically makes us think about the US of A and cowboys often comes from Eastern European countries like Estonia in our case but also from Spain or Asia for the soy-based products. Which is rather good news for those who supplied themselves from the other side of the pond both in terms of price (shipping costs, import taxes, delays, etc.) and quality.
Presentation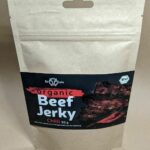 Today we are going to take a closer look at a product from the Sir Loin brand (pun intended) and more specifically the Chilli version of their Beef Jerky.

First of all, their products are organic and preservative-free, which is not the case with all Jerky brands, even Estonian ones. We test quite a few food products with additives but if we did we would be sure to add a special mention to the article.
Ingredients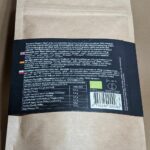 Ingredients: Organic beef* (made with 287 g beef per 100 g), soysauce* (water, soybeans*, salt), worcestershire sauce* (vinegar*, sugar*, grape and blackberry juice concentrates*, spices*, herbs*), salt, honey*, chili pepper* (1%), spices*. *Certified organic ingredients.
Package contains oxygen absorber − not edible.
Product
Appearance
The SirLoin Jerky comes in a 50 g pack which is reclosable, it contains a not edible oxygen absorber. The strips of meat are rather dry with a ratio of 2.87 (it takes 287 g of meat to make 100 g of Jerky) but are not brittle, as can be seen in the photos, which would be a sign of over drying and would make this snack less pleasant to eat. It will still need to be chewed longer to rehydrate it compared to other brands like The Meat Makers, which is more of an advantage for good digestion.
Taste
Jerky without preservatives tend to be more salty / sweet than the others, so it must be taken into account in your daily intake and particularly in case of pathologies such as diabetes or hypertension; see the Nutrition facts table.
Also beware of possible allergies mainly because of the soy contained in the different sauces.
As usual, the base marinade is made from Worcestershire sauce and soy sauce to which we add spices and chili pepper (1 %). The chili is quite mild and is more like an Espelette pepper than a Carolina Reaper which makes it a slightly spiced Jerky that we can peck throughout the day without ending up in perspiration with the mouth on fire as with other brands. However, having water nearby will not be too much if, like me, you manage to make your 50 g packet disappear at lightning speed because the salt is still present…
Nutrition facts
| Average values for | 100 g |
| --- | --- |
| Energy | 1093 kJ / 258 kcal |
| Fat | 3.5 g |
| of which saturates | 2.9 g |
| Carbohydrate | 1.7 g |
| of which sugar | 1.7 g |
| Protein | 55 g |
| Salt | 3.2 g |
Nutrition facts table
Conclusion
It's a good Jerky, classic and simple with a touch of chili pepper, the meat is of good quality and low in fat, the ingredients are mostly organic and its price is around 6 € per pack which is rather reasonable for the product and for the most greedy among us there is the possibility of finding stores that offer bulk discounts.