The Meat Makers – Stick – Lean Pork

In recent years, Europe has seen the appearance of brands of Jerky, of good quality. These companies often offer several types of products in the same spirit such as whole steaks, bars, sticks and other salami or dry sausages.
Presentation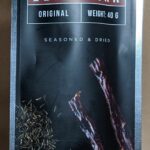 Today, we are going to take a closer look at a product from The Meat Makers brand, a Lithuanian company founded about fifteen years ago and more particularly the Lean Pork version of their Salami Stick.

First of all, their products are not organic but have no preservatives other than salt and sugars, which is not the case with all brands of Jerky.
We test quite a few food products with additives, but if we did we would be sure to add a special mention to the article.
Ingredients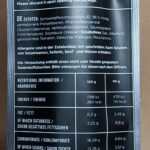 Ingredients: pork ham 82.96 %, honey, dried cranberries, vegetable concentrate (sugar beet syrup, apple juice concentrate, acidity regulator: citric acid), soy sauce (water, soybeans, salt, alcohol), dried tomatoes, spices, sea salt, smoke flavouring.
Package contains oxygen absorber − not edible.
Product
Appearance
The Meat Makers Pork Sticks come in a 40 g non-resealable packet, which contains a not edible oxygen absorber. It looks like sausage sticks from a big, well-known French brand, as can be seen in the photos, but much less oily and with a fairly thin skin that will peel off easily. We can also see the pieces of dried tomato but we cannot distinguish the cranberries.
Taste
Jerky without preservatives tend to be more salty / sweet than the others, so it must be taken into account in your daily intake and particularly in case of pathologies such as diabetes or hypertension; see the Nutrition facts table.
Also beware of possible allergies mainly because of almonds, celery and whey.
These sticks give off a good smell of slightly sweet meat which is the signature recipe of the brand. The spices are not all specified on the packaging but we will note the presence of smoke flavouring, probably based on liquid smoke, but we "stick" to a quality product.
Nutrition facts
| Average values for | 100 g |
| --- | --- |
| Energy | 1198 kJ / 284 kcal |
| Fat | 6.2 g |
| of which saturates | 2.25 g |
| Carbohydrate | 16.59 g |
| of which sugar | 13.78 g |
| Protein | 40.4 g |
| Salt | 1.94 g |
Nutrition facts table
Conclusion
The conclusion is simple, we have the equivalent of a good lean and slightly sweet dry sausage thanks to, among other things, honey and cranberry. The ingredients are not organic but the quality is present and its price is around € 1.80 a pack, which is correct, and can be a snack at any time of the day.