Vantastic foods – Soy Jerky – Original

In recent years, Europe has seen the appearance of brands of Beef Jerky, of good quality. And what basically makes us think about the US of A and cowboys often comes from Eastern European countries like Estonia but also from Spain or Asia for the soy-based products. Which is rather good news for those who supplied themselves from the other side of the pond both in terms of price (shipping costs, import taxes, delays, etc.) and quality.
Presentation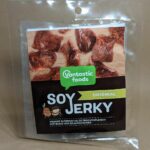 Today, we are going to take a closer look at a product from the Vantastic foods brand, a German company which is one of the largest distributors of vegan products in Europe, and more specifically the Original version of their Soy Jerky.

First of all, their products are not organic but have no preservatives other than salt and sugars, which is not the case with all brands of Jerky. Note that the product is made in Malaysia.
We test quite a few food products with additives, but if we did we would be sure to add a special mention to the article.
Ingredients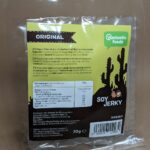 Ingredients: textured soy protein (40 %), water, cane syrup, coconut oil, sesame oil (cold pressed), spices, salt, caramel powder.
Package is vacuum packed.
Product
Appearance
Vantastic foods Soy Jerky comes in a 70g vacuum-sealed, non-resealable package. The soy slices are compacted together and will have to be detached, which is not a problem in itself, but the product is greasy and you will quickly have your hands full. In addition, they are flexible and tender with fairly tight fibers, as can be seen in the photos. The result is a pleasant, slightly elastic texture that doesn't look like soy (which is usually associated with tofu).
Taste
Jerky without preservatives tend to be more salty / sweet than the others, so it must be taken into account in your daily intake and particularly in case of pathologies such as diabetes or hypertension; see the Nutrition facts table.
Also beware of possible allergies mainly because of soy but also sesame.
First of all, before the taste we have to talk about the smell, on opening, the product gives off an odor that I would describe as a mixture between sesame and smoke but more like cold tobacco than beech. This smell has followed me from the opening of the package, for the shooting, to the writing of this article and it is not the most pleasant it has to be said.
Then, the marinade is different from the traditional Jerky, in particular because of the oils and the caramel powder; by the way, we don't know if it's regular caramel (E150a) or one of its much less sympathetic derivatives (b, c and d). Fortunately, the taste is a little more pleasant even if the ingredient "condiments" does not really tell us more.
As with the mushroom-based Taisun Jerky, you feel full faster because of the sweet side and you will probably not finish the package at the usual pace.
Nutrition facts
| Average values for | 100 g |
| --- | --- |
| Energy | 1123 kJ / 267 kcal |
| Fat | 7.1 g |
| of which saturates | 4.9 g |
| Carbohydrate | 30 g |
| of which sugar | 30 g |
| Protein | 19 g |
| Salt | 2.23 g |
Nutrition facts table
Conclusion
It is a product that has the merit of offering an alternative with ingredients from Asian cuisine (soy, sesame). Its soybean base is promising in its appearance and texture, however taste wise I'm a little less convinced but that leaves the door open to a whole panoply of possible flavors and the Teriyaki version is on its way…
Finally, unlike the mushroom-based Jerky, this one has more its place for a recovery snack after a physical effort such as hiking or running because it contains more protein and less sugar. However, it is still difficult to handle if you want to keep your hands clean. Its price is around € 4 per package which is reasonable and at least allows you to make up your mind without killing your wallet.