Taisun – Mushroom

In recent years, Europe has seen the appearance of brands of Beef Jerky, of good quality. And what basically makes us think about the US of A and cowboys often comes from Eastern European countries like Estonia but also from Spain or Asia for the soy-based products. Which is rather good news for those who supplied themselves from the other side of the pond both in terms of price (shipping costs, import taxes, delays, etc.) and quality.
Presentation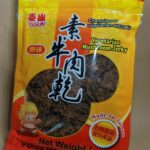 Today we will take a closer look at a product that is out of the ordinary from the Taisun brand which is a large Taiwanese food group created in 1950 and more particularly their product "Vegetarian Mushroom Jerky" with a "classic taste" which as the name suggests is made from mushrooms.

We are quite far from the usual products that we test but since we must remain curious, let's go! As you would expect this is a fairly typical Asian product that does not only contain good things for the health, but we are rather at the top of the basket with only one additive/preservative, potassium sorbate or E202.
Ingredients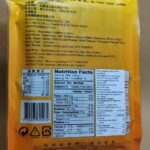 Ingredients: Mushroom (Lentinula edodes), salt, soybean sauce (water, soybeans, wheat, sugar, salt), sugar, spices (five spices powder, white pepper), potassium sorbate (E202).
Package contains oxygen absorber − not edible.
Product
Appearance
The Jerky Taisun comes in a 169 g packet which can be closed with a zip, it contains a not edible oxygen absorber. The slices of mushroom (Lantinus edodes also called shiitake or fragrant mushroom) are very flexible and tender with quite tight fibers, as can be seen in the photos. We therefore obtain a pleasant texture that does not make you think of mushroom.
Visually it is therefore quite convincing and if we had to compare with a beef jerky for example only the softer texture would give a clue.
Taste
This is where things go wrong, when opened, the smell is very captivating and somewhat reminiscent of industrial gingerbread, probably because of the sugar and the five spices that are found in the ingredients. This sugar represents more than half of the weight of the finished product, it must therefore be taken into account in its daily intake and more particularly in the event of pathologies such as diabetes; see the Nutrition facts table.
Also beware of possible allergies mainly because of the soy and wheat contained in the different sauces.
Here the marinade is different from the traditional Jerky mainly because of the five spices and the sugar. The French translation indicates a beef taste but my automatic translator tells me more of a traditional jerky taste, so yes we nitpick but it does not taste like beef as you might think.
In previous articles we like to talk about products eaten at lightning speed but here it is not, it is even the opposite, it is not bad it's just that you feel more full and with a package of 169 g your are safe for a while.
Nutrition facts
| Average values for | 100 g |
| --- | --- |
| Energy | 1464.4 kJ / 350 kcal |
| Fat | 10 g |
| of which saturates | 4 g |
| Carbohydrate | 59 g |
| of which sugar | 17.8 g |
| Protein | 6 g |
| Salt | 2.26 g |
Nutrition facts table
Conclusion
It is a product that has the merit of offering an alternative with ingredients from Asian cuisine (shiitake and soy sauce), its mushroom base is promising in its appearance and texture, however taste wise I am not convinced but that leaves the door open to a whole panoply of possible flavors.
In the end, I do not recommend it as a snack to recover after a physical effort such as hiking or running because of its low protein content and the load of sugar but with a price around € 4 per pack, which is rather reasonable for the packet size, you can at least make up your mind without breaking the bank.